New Zealand Global Rating Scale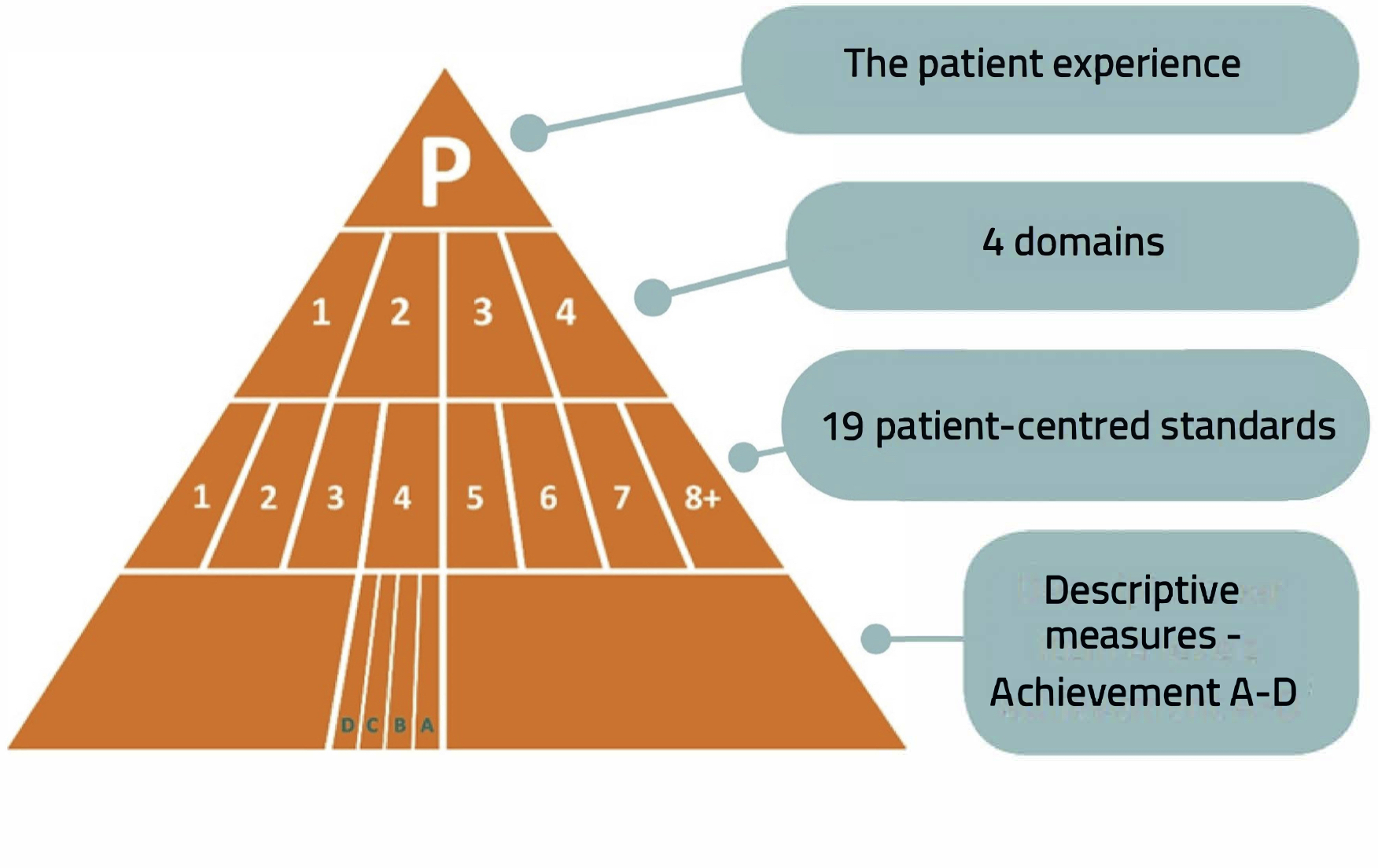 What is the New Zealand Global Rating Scale?
The NZGRS is a service improvement tool that enables endoscopy units to assess how well they provide a patient-centred service. It comprises a web-based assessment tool that makes a series of statements requiring a Yes or No answer. The tool supports services to measure their performance against nationally agreed standards and to identify areas of improvement. These standards have been adapted (2019) to align with New Zealand healthcare systems. Through sharing and embedding knowledge of what works, units are supported to develop local solutions for local quality issues.
The scale has three different layers: domains, standards and measures
The NZGRS comprises a total of 19 standards, divided into four domains. Each standard is underpinned by several measures, which are categorised from level A to D. Level A represents excellent adherence to the measures.
Domain
Refers to a broad aspect of care. There are four domains: Clinical Quality, Quality of Patient Experience, Workforce and Training of Endoscopists.
Standards
The standards within each domain provide a more detailed picture of what the domain comprises. The standards are qualitatively different and therefore no standard is more or less important than another. There are 19 patient centred standards, outlined in the table below.
| | |
| --- | --- |
| Clinical quality | Quality of patient experience |
| 1. Leadership and organisation | 7. Respect and dignity |
| 2. Safety | 8. Consent process including patient information |
| 3. Comfort | 9. Patient environment and equipment |
| 4. Quality | 10. Access and booking |
| 5. Appropriateness | 11. Planning and productivity |
| 6. Results | 12. Aftercare |
| | 13. Patient involvement |
| Workforce | Training of endoscopists* |
| 14. Teamwork | 17. Environment, training, opportunity and resources |
| 15. Workforce delivery | 18. Trainer allocation and skills |
| 16. Professional development | 19. Assessment and appraisal |
* Only those offering endoscopy training are required to complete the training domain
Measures and levels
Each standard is underpinned by a series of descriptive measures that describe in specific detail the level of service/care provided. The measures are grouped into four incremental levels (A-D), ranging from the most basic level of service provision (level D) to best practice (level A). Each individual measure is assessed by the endoscopy team, requiring either a Yes or No answer. The aim for services is to reach level B in all standards, with level B indicating attainment of minimum requirements and level A being an aspirational target for high-performing services.
Access to the NZGRS system
The NZGRS system is hosted by the Joint Advisory Group for Gastrointestinal Endoscopy (JAG UK) and managed by the National Endoscopy Quality Improvement Programme (NEQIP) team. Access to the system is available to licenced endoscopy services. Individual service users must be registered with a user profile. Permission must be sought from the department lead before applying for registration. All enquiries regarding login access and system support should be directed to the NEQIP team - NEQIP@cdhb.health.nz.
Visit NZGRS Website